Our McLean Plumbing Service Brings the Muscle

There may be no worse realization than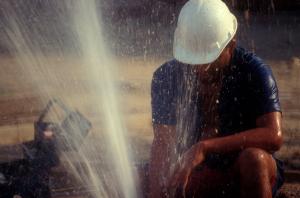 coming home and smelling sewer fumes coming from the basement. Even before you see the water pooled at the base of the basement stairs, you know the sump pump has failed. After you say your few choice words, get on the phone and call our McLean plumbing service. Time is of the essence in these situations. Every minute that the water continues to back up, the more damage is being done to you drywall and any finished flooring. We'll be there soon and have the pump either repaired or replaced and prevent the problem from getting worse.
24/7 Emergency Plumbing Service

Our 24/7 emergency plumbing team was formed specifically to
handle sump pump failures, bursting pipes, overflowing toilets and other sources of plumbing-related flooding. We know how to get in, get the water shut off and get the area dried up quickly. Our McLean emergency plumbing crew also understands the trauma that can be caused by a major plumbing disaster. We are not only trained to handle the physical problem, but the emotional turmoil that comes with it.
Full Systems Inspections

We are great with emergencies, but we're even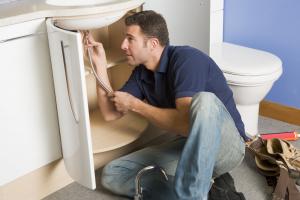 better at preventing them. Every member of our service team can recognize potential hazards in your home or office and help you fix them long before they leave a room looking like a duck pond. Our full system inspections cover the entire pipe system from the point water enters the property until it leaves via the main drain line. This inspection includes all of the appliances, pumps, valves and seals that run along the route. If we detect a major problem, you will be notified immediately. In the case that there are no major issues (which we hope is the case), we'll give you a detailed report of the system's efficiency and areas where you could improve the performance of your plumbing to take advantage of additional annual savings.
100% Satisfaction Guarantee

Our McLean plumbing service doesn't just offer lip service, either. We stand behind every single service with a 100% satisfaction guarantee. We can do this because all of our techs are fully licensed by the state of Virginia and have at least four years of hands-on experience under the tutelage of a Master plumber. This hands-on experience, coupled with the book learning necessary to pass the state examination, puts our staff in elite company.
Of course, none of this makes a lick of difference if you don't have our number programmed into your phone. Searching the internet (or the phone book) for a reputable plumbing service in the McLean VA area could net you dozens of results. When there are that many to choose from, you simply don't have time to check them all, especially in an emergency. Do yourself and your business a favor by placing us on your emergency contact list or speed dial. At the very least, file us under P for plumber.